Matthew Marsolek
Bio | Study | History | Recordings | Matthew Home ct
Biography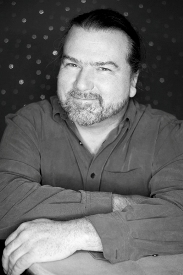 Matthew Marsolek has received awards of excellence from the University of Montana for his musical work with theater and dance. He has studied East Indian and West African music for the past 18 years with a variety of teachers, including Mukesh Desai from India and Abdoul Doumbia from Mali, West Africa. Matthew has experience and training in jazz, classical, and Hindustani vocal technique and is also an accomplished jazz and classical guitarist. As a recording artist, he has released projects with Drum Brothers and Mandir as well as two solo recordings. A dedicated and charismatic educator, Matthew has a passion for rhythm, musical relationships, and the theraputic and community building aspects of music. He teaches classes and clinics in voice, rhythm, and hand drumming throughout the United States and in Canada.
For over two decades, Matthew has been a facilitator at numerous workshops around the Northwest, sharing music and rhythm with a variety of groups including at-risk youth, bereaved children, cancer survivors, and students of all ages. He's also been a workshop leader with the Montana Men's Foundation since it's inception in 1992.
Matthew has been composing music for just about as long as he can remember. In addition to his work with Drum Brothers and Mandir, he's created music for theater, modern dance, spoken word, and film.
In 2004, Matthew and Marianne Spitzform, Ph.D., conducted a pilot study on hand drumming, consciousness and the brain through St Patrick's Hospital. Their research has been presented at the Toward a Science of Consciousness Conference in Tucson, Arizona, the Butte Cardiology Conference at St. James Healthcare in Butte, Montana, and the Bridging the Gap Conference at St. Pat's Hospital in Missoula, Montana . For more information, visit the Rhythmic World page.
Study
Private Study: classical, acoustic and electric guitar; piano and synthesizer; banjo; ukulele; world percussion; multi-track recording; sound recording, mixing, and mastering; sampling & looping; songwriting and composition.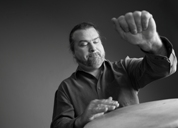 1990-2013: West-African music study with Abdoul Doumbia, Joh Camara, Karamba Diabate and others.
1992-93: Private study in Hindustani vocal technique with Mukesh Desai, Helena MT.
1987-88: Music study at the University of Montana with a focus on composition and vocal technique (Voice instructor: Patrick Williams).
1984-87: Classical vocal study with Fae Buness, Helena MT.
Some History of Music Making
2015: Performing and speaking at TEDx UMontana.
1994-2015: Drum Brothers - touring throughout the Northwest presenting community concerts, school residencies, community workshops.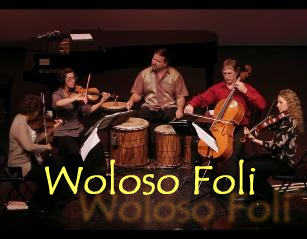 2012: Composed and recorded original music for the film, Moonhair.
2011: Premiered two original compositions for string quartet and african percussion, composed for the Cascade Quartet of the Great Falls Symphony.
1994-2008: Mandir - touring throughout Montana and the region.
2002: Composed and recorded original music for Equatorial Fever/Northern Dreams, a music/dance collaboration for 9 dancers and the musical group Mandir, choreographed by Amy Ragsdale.
1996: Performed with Coleman Barks (poet and translator of the poems of Jelalludin Rumi), Missoula , MT.
1995-96: The Stories Project - Improvised music with the spoken word for broadcast on KUFM Montana Public Radio and stage performances.
1994: Matthew Marsolek Trio: Performed with Philip Aaberg (KUFM's kickoff concert for Public Radio Week); toured Western Montana.
1994: Musical director, composer, and performer for the play, Place Where Bear Dances, by Roland Meinholtz, Missoula, MT.
1993: Musical director and guitarist for the University of Montana 's production of Hair.
1992-93: Received two Awards of Excellence from the University of Montana for work creating and directing music for theater and modern dance.
1992: Composed, directed and performed music, for Trying to Surrender, a music/dance collaboration with Amy Ragsdale (for five musicians and ten dancers).
1991-92: Composed and performed music for the University of Montana's production of Shakespeare's Twelfth Night and Aristophanes' Lysistrata.
1992: Performed Beyond the Bounds, a music/dance collaboration with Amy Ragsdale, Morningside Dance Festival, New York, NY.
1990-91: Marsolek Brothers Trio, composed original music and performed throughout Montana.
1983, 1984, 1987: Bass soloist with the Helena Symphony in Handel's Messiah, Helena , MT.
1984, 1986: Bass/Baritone solo recitals in Helena, Montana.
Recordings
"The Bhakti Road" (March 2003) A collection of Sanskrit Chants from India, sung by Matthew Marsolek and friends and accompanied by guitar and a variety of World percussion instruments including: riqq, various frame drums, and didgeridoo. Joining him on this new recording are Michael Marsolek and Nathan Zavalney, also of Drum Brothers, and Tracy Topp.
"Remember" (2002) Featuring some of Drum Brothers favorite live performance material, "Remember" is filled with driving West African rhythms, dance grooves, polyrhythmic vocals, didgeridoo, guitar, ethnic flutes, didgeridoo, and world percussion. With guest artist Abdoul Doumbia from Mali, West Africa.
"Grooves" by Matthew Marsolek (2001) Featuring traditional and contemporary rhythms for West African Drum Ensemble (djembe, dounoun, shekers and hand bells), layer vocals, and lot's of groove. Also a special track ("longbell trance") featuring Michael's resonant didgeridoo.
"Out Beyond Ideas" by Mandir (1998) Mandir's music is a joining together of world influences; jazz, classical, and folk idioms blend with melodic and rhythmic elements from India and West Africa. The group's signature sound references far away places while also evoking a sense of the Montana landscape and sky..
"Power of Rhythm" by Drum Brothers (1997) High-energy world percussion, harmony vocals, guitar, didgeridoo, a journey through a landscape of world rhythm. Featuring popular Drum Brothers performance selections including "Goatskin Hip Hop", "Humanah", "Ode to Hamza", and "Merengue/Bell Heaven".
Bio | Study | History | Recordings | Matthew Home